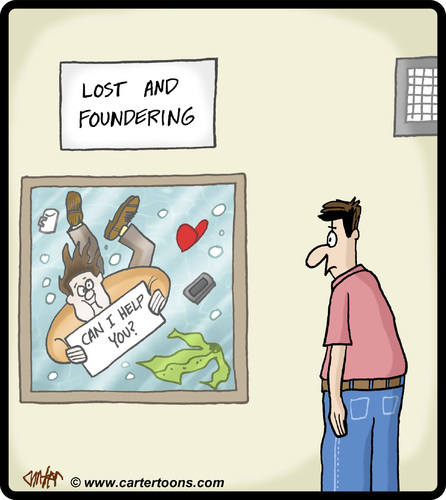 According to Dictionary.com, to flounder is to struggle clumsily or helplessly. Flounder is the perfect word to describe the process of starting a startup. In the beginning, the founder feels just like that – like a fish out of water, a "flounder" maybe, flopping along the ground after being hooked by a fisherman.
Startups often take a long time to build, and those first years can be heartbreaking and disappointing.
Look at these examples of founders who floundered to get their businesses going.
Doug Lebda, "Flounder" of LendingTree, whose market cap today is $4.3 billion:
Doug figured that banks would clamor for his idea, but they were only "intrigued." In one meeting with a bank, Doug discovered that his original company name, "Bankwire," was already taken when a banker asked, "BankWire? Why does that sound familiar?" His colleague exclaimed: "Yeah, that's the name of the Federal Funds Transfer System!" Embarrassed by the snafu, Doug changed the company's name to CreditSource USA – and eventually LendingTree.
Wes Aiken, "Flounder" of restaurant scheduling software firm, Schedulefly:
In 2005, Wes convinced his cousin Mark, a graphic artist, to design marketing materials for Schedulefly. "I did one thing that I kind of regret," Wes said. "I spent, like, fourteen hundred bucks creating a handout kind of thing in a nice folder. Those marketing folders sat in my closet and collected dust for a couple of years. And finally, when we moved, I was, like, 'Oh, my God! Look at these things!' I never did anything with them. There were like a thousand of them; I just tossed them. Totally wish I'd bought a new fly rod instead of spending fourteen hundred dollars on those stupid handouts."
Eric Ryan and Adam Lowry, "Flounders" of Method Soap; Eric and Adam explain in their popular book, The Method Method, how in the beginning, they failed to land an account with Target:
"Setting our sights on Target, we actually liked our chances. Luck had gotten us this far, right? … After weeks psyching ourselves up for our all-important pitch, we couldn't believe our ears. The buyer seemed annoyed with us for wasting his time. We'd aimed high, failed big, and crashed hard. Going back to work was the worst part."
Bob Younger, "Flounder"of Red Hat Software (Today, Red Hat has a market cap of nearly $22 billion.):
Red Hat's eventual revenue growth would derive from getting large sales, installing Linux on thousands of servers for corporations. But from 1995 to 1999, executives at large corporations resisted Red Hat Linux because they still thought it was unreliable. For example, at the 1996 UNIX Expo, Bob explained the benefits of Red Hat Linux to a giant financial firm's technology director and then asked, "Can I interest you in buying a hundred copies of Linux from me?"
The technology director declined, telling him Red Hat would never fly at his company. "What you're telling me about Linux is you guys down at Red Hat – and you admit there's only 50 of you working away in the tobacco fields of North Carolina – by your own admission are writing maybe five percent of the code that I would buy on your disk. And the other 95 percent of that code you have only a good guess where it's from, but you really don't know. Just how long do you think my career would last in front of either that bank inspector or my board of directors?"
Bob replied, nodding, "As a sales objection, that's as good as I've ever heard. I don't have a comeback to that one. You have a great day."
Ryan Allis, "Flounder" of iContact, an email marketing software firm that was sold for $169 million:
Here is what Ryan said more than a year after starting: "We hadn't made quite as much progress as I thought we would. I just thought it would go faster. … I wasn't sure iContact was going to make it, so I hedged my bets and made sure I could get a college degree as well as build a company."
Keep fighting the good fight
The paradox is that oftentimes, founders are good at floundering. They are good at struggling to survive, and they then eventually thrive. The most effective founders build upon unabated short-term failures to unlock the magic of their idea. Their strength is being able to overcome and manage the awkward situations.
When you're floundering, you have to fight to see another day. These founders did. You can too!
Sign up to get more great insights directly to your inbox.
As a special bonus, you'll also immediately get access to my inside analysis of what made 172 diverse companies achieve take-off revenue growth.
---